While getting a good workout is an essential part of maintaining holistic health, the importance of diet can not be overlooked. While most individuals are familiar with macro and micronutrients there are some simple dietary health hacks that may be a game-changer for both you and me. Berries. You've got it! Nutrient-dense, delicious berries. Now before I spit out the Bubba Gump list of berries, berries, and more berries, we will narrow in on the ones that offer the most bang for your buck.
Blueberries:
Believe it or not, blueberries have been deemed the healthiest berries in the world and rightfully so. Although they do contain a bit more sugar than berries such as raspberries, blueberries are full of antioxidants, vitamins, and minerals.
There is a lot of fiber in blueberries. Dietary fiber is an important part of a healthy diet and a healthy gut. One cup of blueberries provides roughly 3.6 grams of fiber. Research suggests that men and women should aim to consume 20 – 30 grams of fiber each day. Eating a handful of blueberries each day is a simple and effective way to increase your daily fiber intake.
Quercetin is one of the most abundant antioxidants in blueberries and plays an important role in helping your body combat free radical damage. Studies show quercetin may help reduce inflammation, ease allergy symptoms, may have anticancer effects, lower blood pressure, may reduce your risk of brain disorders and dysfunction, help combat aging, enhance exercise performance, and even aid in blood sugar control.
Multiple studies show that if you eat blueberries every day you are boosting your immunity, reducing your risk of developing diabetes, obesity, and heart diseases. Additionally, consuming blueberries each day can help strengthen your metabolism and prevent metabolic syndrome.
Raspberries:
A lot of nutrition-packed into a small space, raspberries provide potassium, are essential to heart function and are proven to lower blood pressure. The omega-3 fatty acids in raspberries can help prevent stroke and heart disease. They also contain a mineral called manganese, which is necessary for healthy bones and skin and helps regulate blood sugar.
One cup of raspberries provides 8 grams of fiber, far more than most fruits in the produce aisle. Fiber can help lower blood sugar, cholesterol, and blood pressure. Foods high in fiber tend to be more satisfying and keep you feeling full longer after a meal, so they can help with weight management.
Raspberries contain much less sugar than most fruits — just 5 grams in an entire cup, making them less likely to raise your blood sugar levels.
Raspberries are high in antioxidants that can protect cells from damage by free radicals. Free radicals are unstable atoms that injure your cells as they try to stabilize. The damage they cause may play a role in the aging process, arthritis, cancer, heart disease, Alzheimer's disease, and many other conditions.
Antioxidants stabilize free radicals, making them harmless. Fresh raspberries are among the top sources of antioxidants for your diet. Black raspberries offer the most antioxidants, followed by red and then golden raspberries. The deeper the color, the more antioxidants the berry contains.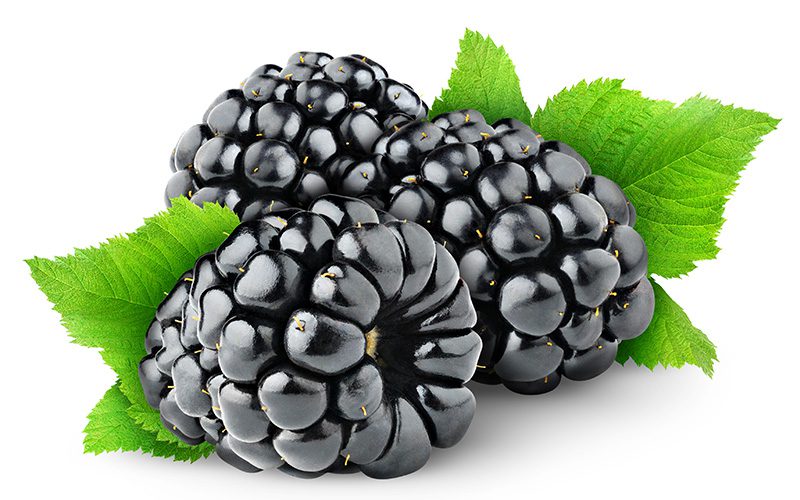 Blackberries:
That deep, dark purple color of blackberries is an indication that they are a rich source of anthocyanins, a powerful antioxidant.. Research shows that an anthocyanin extract found in blackberry juice provided protective effects against heart disease. These little berries are also rich in vitamin C and potassium, both of which support a healthy cardiovascular system.
A study published by the Nutrition & Cancer Journal also found that certain fresh blackberry extracts may help prevent tumor growth and the spread of cancer, although more research is required.
An animal study by the Nutritional Neuroscience Journal found that including blackberries regularly in the diet improved both motor and cognitive function which may provide benefits in humans. If you like foraging for your berries then a study by the European Journal of Nutrition will be of interest; they found that consuming wild blackberries may provide a protective effect on the brain thanks to their rich polyphenol content. It is also worth noting that blackberries are a good source of the mineral manganese which plays an important role in brain function, deficiencies of this mineral have been found to increase the risk of conditions such as epilepsy.
Although blueberries, raspberries, and blackberries are amongst the healthiest berries to eat, there are many other healthy types of berries to enjoy.
This includes but is not limited to:
Acaí berries
Strawberries
Cranberries
Goji berries
Elderberries
While there is no single 'superfood', such as berries, that can prevent illness, there is more and more evidence that supports the thought of " Eating a healthy diet can improve longevity and decrease your risk of chronic disease.
One of the most important things to remember is that you should always consume Organic sources of Berries. At Balance for Life, not only do we lecture on the importance of organic vs conventionally grown berries but lots of other food groups as well.